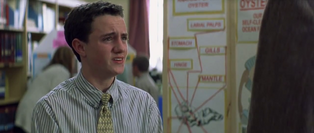 The Oyster Boy goes to Shane DeTorre's school and was doing a science fair project about oysters.
Osmosis Jones(film)
Edit
He is an apparently mentally challenged kid that goes to Shane's school. He assumed that the oysters he had would filter all the bacteria and other bad stuff from the water. As a result, he is partially responsible for the incident that made Frank the laughing stock of the town.
Oyster boy's real name is Zach
Its revealed that his brain is the size of tangerine according to his doctor and Mrs. Boyd.
Ad blocker interference detected!
Wikia is a free-to-use site that makes money from advertising. We have a modified experience for viewers using ad blockers

Wikia is not accessible if you've made further modifications. Remove the custom ad blocker rule(s) and the page will load as expected.