Kidney Rock is a band of germs who play at The Zit.
Osmosis Jones (film)
Edit
They are seen in the zit singing a song called cool daddy cool. They are led by a Joe C with Kid Rock. When the zit popped, it is unknown if kidney rock survived the freezing explosion.
Main Members
Edit
Robert James "Kid Rock" Ritchie (born January 17, 1971) is a germ who is the rapper of the band called Kidney Rock.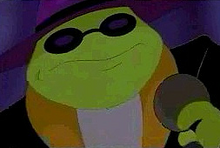 Appearance
Edit
Green color-like germ with blonde hair, blue eyes, middle-aged person, wearing white sleeveless shirt with black sweater, red hat-style, red pants and black shoes.
Joseph "Joe C." Calleja (November 9, 1974 – November 16, 2000) is a germ who is rapper of the band called Kidney Rock.
Appearance
Edit
Same as Kid Rock, but kind-a small germ child-aged person, with black looking-style sweater with white shirt, purple-style hat, blue pants with four legs, wearing black glasses.
Kidney Rock is named after one of the band's actors, Kid Rock.
Kidney Rock band members are voiced by seven actors. However Joe C. (who's rapper) have died from 1 year later back in 2000 before the movie have made.
Its unknown what kind of music the band plays. But it have revealed in the credits that music was called Cool Daddy Cool.
The bands name is a play on a kidney stone.