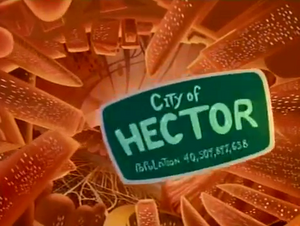 The City of Hector is inside the body of Hector Cruz in TV series, Ozzy & Drix and is similar to the City Of Frank.
Ozzy & Drix
Edit
In the first episode of the series, Ozzy and Drix are transferred from Frank to Hector by way of a mosquito bite. Once they arrive, they decide to stay and keep Hector healthy since they have no possible way of getting back to Frank.
Locations
Edit
Nose
Mucous Beach
Stomach
Spleen
Cerebellum Hall
Residents
Edit
The City of Hector has a little similarities to the City Of Frank
Ad blocker interference detected!
Wikia is a free-to-use site that makes money from advertising. We have a modified experience for viewers using ad blockers

Wikia is not accessible if you've made further modifications. Remove the custom ad blocker rule(s) and the page will load as expected.